What is power fluctuation and How to solve it with an aulten stabilizer?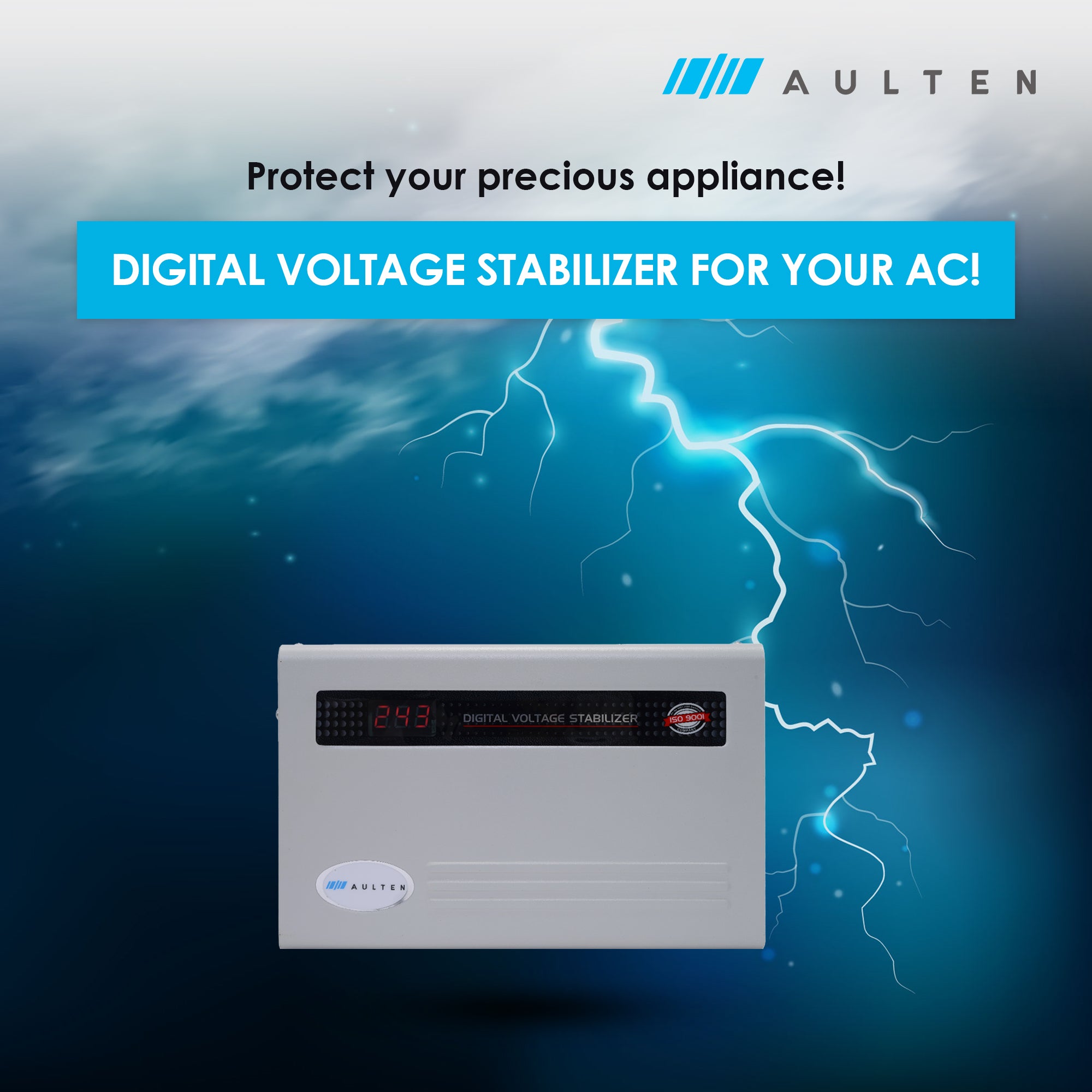 Have you ever heard words like power fluctuation from people around you? But do you actually know what power fluctuation is? Let's get to know about power fluctuation, its causes and consequences, and the ways to get rid of it. Be with us till the end to know everything related to power fluctuation.
Power Fluctuation
Power fluctuation also known as voltage fluctuation is a change in the power supply or voltage to electric appliances. Frequent power fluctuation can hamper the performance of electric appliances and reduce the life of appliances. There is no one reason for power fluctuation as various factors might cause power fluctuation. To cater to this problem of fluctuation and protect the appliances, you must know the factors behind power fluctuation.
Factors responsible for Power Fluctuation
Factors or reasons behind power or voltage fluctuation:
Poor electricity supply: Fluctuations can occur due to poor electricity supply in your area or due to faulty electrical appliance that consumes more electricity than normal ending up to huge voltage fluctuations.
Wiring Issues: Improper wiring or damaged wires can cause power or voltage fluctuations.
Natural Causes: Natural factors such as thunder, lightning, fallen trees, and heavy rains can cause power surges or obstructions in transmission lines that cause power fluctuation.
Interference: Connecting too many appliances or any faulty appliance with others to the same circuit can cause power surges or fluctuations in the circuit.
Consequences of Power Fluctuation:
Power fluctuation adversely affects the home appliances by hampering their performance and reducing the long life of appliances. Voltage fluctuations can cause insulation damage to windings or permanent damage to the appliances. Fluctuations can also cause malfunctioning of appliances and reduce the speed, performance, and life of appliances. So, power fluctuations are needed to fix for healthy working and life of electric appliances.  
Fixing of Power Fluctuation with Aulten Stabilizers
To protect your home appliances and to fix the problem of power fluctuation, Aulten has brought a range of mainline voltage stabilizers, mainline copper stabilizers, multipurpose stabilizers, and AC stabilizers. The voltage stabilizers by Aulten will protect your electric appliances from power fluctuations. So, stop the torcher to your electric appliances and bring any of the Aulten Stabilizer to your home.
Benefits of Aulten Stabilizers
Aulten stabilizers protect your appliances from over or under voltage, short circuit, and overload.
Stabilizers have a digital LCD display to show input and output voltage with LED indicators.
Microcontroller inbuilt voltage stabilizers of Aulten automatically cuts the power supply during fluctuations.   
The Wall mountable structure of stabilizers offers ease while installation.
Manufactured with a high tensile metal cabinet that provides durability to stabilizers.
Stabilizers are integrated with zero cross switching technology and high efficient toroidal transformer.
Mainline stabilizers have two MCBs on the front for stabilizers on/off mains and changeover or bypass to use the grid power supply in an emergency.
AC stabilizers of Aulten ensure perfect cooling by the optimal power supply.                                                               
Cutting-edge technology of AC stabilizers saves energy and provides high performance.
Aulten stabilizers are easy to install.
1-year replacement guarantee, free home delivery, 7 days hassle-free returns, and 100 nights satisfaction warranty are also provided with the purchase of Aulten voltage stabilizers.
Some best Aulten voltage stabilizers
It is a Heavy Duty mainline voltage stabilizer best for the mainline.
Dimensions of stabilizer are 1 x 42.4 x 35.7 cm
Output voltage range of this stabilizer is 200V – 240V.
The stabilizer work on relay-type technology.
Stabilizer 5 KVA Copper 90V – 300V
It is a mainline copper stabilizer that has a copper transformer.
Dimensions of stabilizer are 20 x 10 x 10 cm.
Output voltage range of stabilizer is 200V – 240V.
The stabilizer work on relay-type technology.
It is a AC stabilizer best for up to 1.5 ton AC.
Dimensions of stabilizer are 3 x 32.4 x 20.3 cm
The stabilizer has a wide range of voltage corrections.
It is a multipurpose stabilizer with a working input range of 50V – 280V.
The output voltage range of the stabilizer is 200V – 240V.
Dimensions of stabilizer are 43 x 30 x 20 cm
The stabilizer is fully automatic that works on relay-type technology.
3 comments